Happy rainy Monday!
Today I thought I would share a ridiculously easy and inexpensive project. Porcelaine is a neat type of paint that adheres to ceramic. Best of all it comes in a pen dispenser so you can get fairly good accuracy.
I bought mine at Michaels, I think the pen was around 7$ but I used a 40% off coupon.
I purchased this lovely mug at my local goodwill for 2$. I took a before photo of the mug but I can't seem to find it.
I loved the detailing on the handle.
I was inspired by a few different Etsy pieces that I have seen. The design is basically a very simple little tea bag hanging down from the cup. I don't think mine is as professional looking but I am certainly no artist (I had to get the beau to help with some of the work). I wanted to start small as this was my first Porcelaine project.
The process is really easy. The pen is a lot like a sharpie, you draw on what you want. Let dry for 24 hours then bake at 150* in your oven for 35 minutes.
Then you are done! I think the instructions said it was dishwasher safe but I would still advise to hand wash and not scrub directly on the image to preserve it.
I signed the bottom of my cup,
I know I will be keeping my eyes peeled when vintage shopping for more cute pieces of ceramic that I can experiment on.
My gal pal at
Reckless Bliss
had showed me this beautiful mug from Anthropologie, I think making a copy cat might be my next Porcelaine project!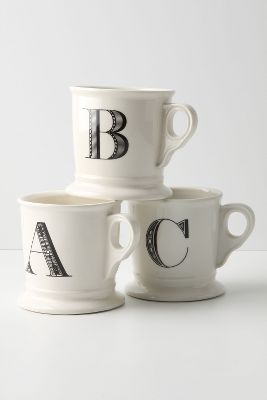 (Image Source)
Have a lovely start to the week!

P.S. I'm linking up to
Brag Monday at the Graphics Fairy.